Horlick's Malted Milk Corp.
(1930-1945)
| | |
| --- | --- |
| Bottle and cap - Claude Aubé | Photo - E. B. |
Historic
Brothers James and William Horlick of England founded a company that carried the name of Racine, Wisconsin to the farthest reaches of the globe and changed the way America ate.
London pharmacist James Horlick developed ideas for an improved, wheat and malt-based nutritional supplement for infants. Despairing of his opportunities in England, James joined his brother William, who had come to Racine to work at a relatives quarry. In 1873 James and William formed a company to manufacture their own brand of infant food. Ten years later, in 1883 Horlick was issued a patent for first malted milk drink mixing powder with hot water. The company originally marketed its new product as Diastoid, but trademarked the name malted milk in 1887.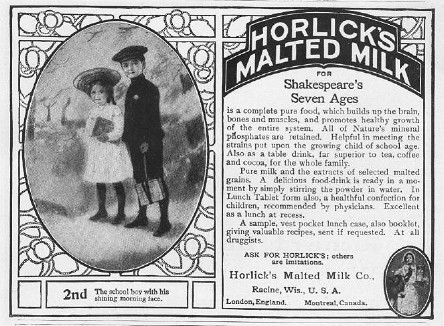 As mentioned at bottom of this sign, the Malted Milk Company opened factories in three countries :
Angland, U.S.A. and Canada. We can find bottles in these three countries.
Despite its origins as a health food for infants and invalids, malted milk found several unexpected markets. Explorers appreciated its lightweight, non-perishable, high-calorie qualities and began taking malted milk on treks worldwide. William Horlick became a patron of Antarctic exploration, and in return, Admiral Richard E. Byrd named a mountain range in Antarctica after the Racine manufacturer.
Back at home, healthy people began drinking Horlicks product simply for the taste. Malted milk became a standard offering of soda fountains across the country and found even greater popularity when mixed with ice cream into a malted. The fondly remembered malt shops of communities large and small owe their very name to the Horlick brothers of Racine.
During 1933 and 1935 Rear Admiral Richard Byrd explored the Antarctic using aircraft and powered sleds. Horlick was so appreciated that Admiral Byrd named a mountain range for William Horlick in recognition of their consistent support of his Antarctic expeditions. The Horlick Mountains rise to a height of 9000 feet (3000m) toward the southern extreme of the Ross Ice shelf and can be found at 86oS, 115oW.
William Horlick died in 1936, aged ninety. In 1945, Horlicks Malted Milk Corporation (USA) was acquired by the English Company SmithKline-Beecham. Horlick's Malted Milk is no longer produced in Racine.It is still made in parts of India, Pakistan and Bangledesh with using Buffalo milk rather than cows milk.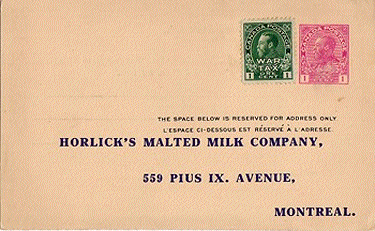 Carte de commande pour échantillons - Gilles Legault
Numéro civique ??? Peut-être avant la renumérotation...

Horlicks Malted Milk Corp of Canada Ltd
" Gilmour Bros & Co reps "
2115 Blvd Pie-IX (1930-1933)
4107 Richelieu (1933-1940)
La Holick's Malted Milk Corp. n'apparaît plus au Lovell's après 1940
Historique
En 1930, l'agence Gilmour Brothers occupe conjointement avec la Compagnie Johnson & Johnson, une partie d'une usine de coutellerie située au 2115 Blvd Pie-IX. C'est à cet endroit que les frères Gilmour débutent à Montréal, la fabrication et la distribution du lait malté " Horlick's Malted Milk ".
En 1934, la compagnie Johnson & Johnson s'agrandit et prend possession de toute l'usine du Boulevard Pie-IX. La Horlick's Malted Milk Corp. ira alors se reloger au 4107 rue Richelieu.
Recherches : Gilles Legault