Reproductions!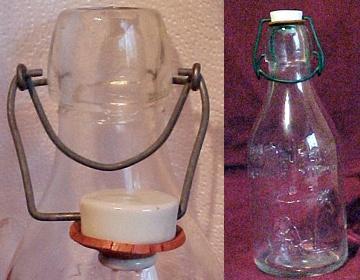 Photos & Infos
Robert Benoît

The first Milk Bottle made by the Thatcher© company. The original is on the right (clear). The fake is on the left and has been found in amber, green, dark blue, and clear. The fake does not have the milk protector on the front like the original. Most of the reproductions have "Cranford China 1965" embossed on the bottom. Another tip off is the real Thatcher© used a glass top held by a snap wire, the fake has a wire around the neck. This year, a glass pitcher was spotted with the "man milking cow" embossing on the front, this is another fake which is a gift item, not original Thatcher© glass.

La bouteille Thatcher... la vraie 1886
Thatcher bottle... the real one 1886
Pictures from EBay. One bottle was sold in March 2002
$1,000.00 Canadian dollars!
See below for detailed description...
Up for bids is a beautiful, early quart milk from the "THATCHER MFG. CO. POTSDAM, N.Y." which is embossed on the bottom! "ABSOLUTELY PURE MILK" is also embossed on the front over a scene of, what looks like, a Quaker milking a cow!
The strike on the cow and the man are somewhat weak which is typical of these bottles. Under the scene is embossed, "THE MILK PROTECTOR" and the other side is embossed in a small slugplate, "TO BE USED ONLY AS DESIGNATED MILK & CREAM JAR".
This bottle has a nice purple cast to it and is in very good condition with just a tiny bit of scratching, no casewear, chips, cracks or potstones! It has its original wire and glass top and has a patent date on the top of "APRIL.27.86". An early tooled topped milk with lots of character! Let me tell you, "THIS IS NOT A REPRODUCTION!!" it's the real deal! What an incredible piece!
Révisée 07-08-2006 / Updated 2006-08-07