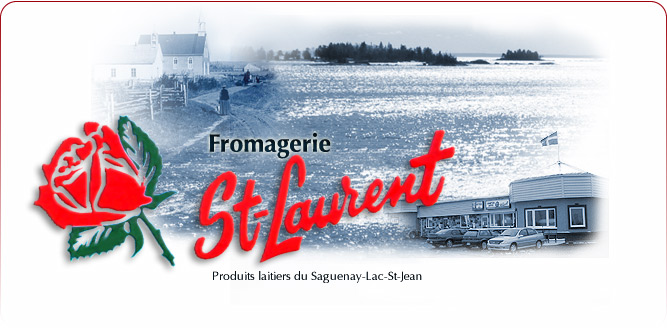 Historic
Known throughout the Saguenay-Lac-St-Jean region of Québec, Fromagerie St-Laurent was the lifework of Maurice St-Laurent. Those closest to him saw him as valiant and dedicated, and as a fine example to all.
Born the 14h of August, 1920 in Luceville near Rimouski, Maurice St-Laurent was the third of nine children. His parents, August Saint-Laurent and Eléonore Mongrain, were both entrepreneurs.
During the 1930's, Auguste decided to leave the Gaspé region to live in the beautiful Lac St-Jean region. He decided to leave behind his old business and buy several local cheese companies scattered around the lake. In total, he acquired five.
In 1940, Maurice Saint-Laurent took over where his father left off. Ten years later, in 1950, he decided to sell most of the local "fromageries" and to keep only the most important, situated on Row ('rang') 3 in Hébertville. In 1953, he took a short break to marry Dolorèrs Brochu, a native of Portneuf county. She bore him six children: Renault, Luc, Yves, Sylvie, Marie and François.
In the month of May, 1972, a terrible fire completely devastated the cheese factory. After summing up the situation, Monsieur Saint-Laurent decided to reconstruct from scratch, and to relocate on "Row 6 North" in Saint-Bruno. An abundance of water, a necessity in the cheese making process was close by and readily available. From this moment on all production became centralized in Saint-Bruno.
In 1982, Maurice Saint-Laurent invested close to a million dollars, to modernize the factory and update machinery used in the making of various cheese products.
And so, at the time of his passing Maurice Saint-Laurent left behind a prosperous enterprise, one that has continued to grow and impact on the region. Today the factory employs over 50 people on a full-time basis, and every year it transforms 12 million litres of milk into various forms of cheese and butter, easily making it one of the two largest "Fromageries" in the Lac-St-Jean. At the helm are Maurice's three sons Luc, Yves and François, continuing a family tradition begun almost a century ago.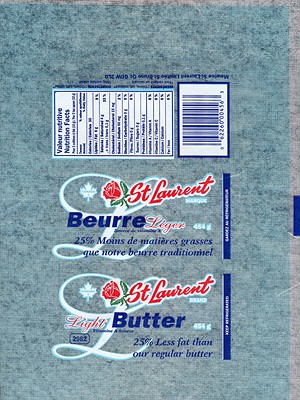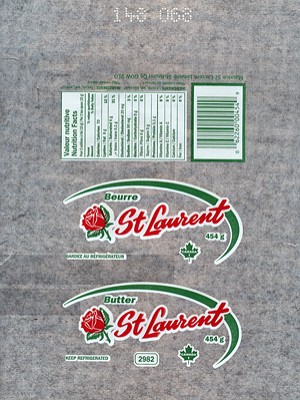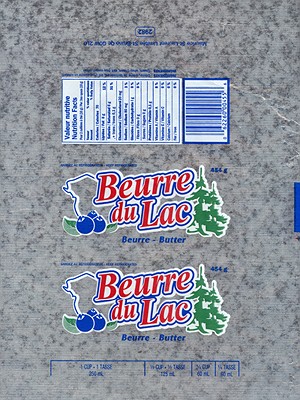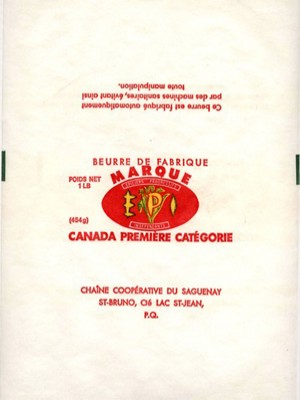 Butter parchment wrappers - Robert Benoît
Beurre du Lac and the brand EPI "Épiciers Progressifs Indépendants" butter, was made in St-Bruno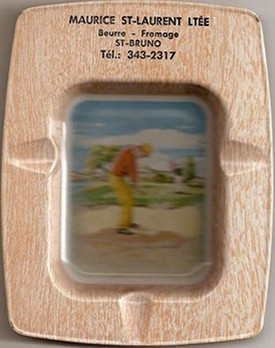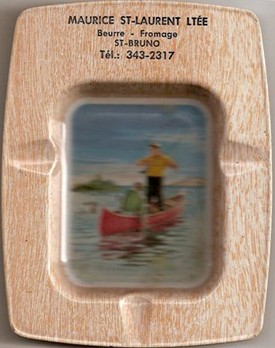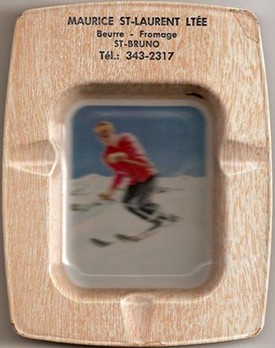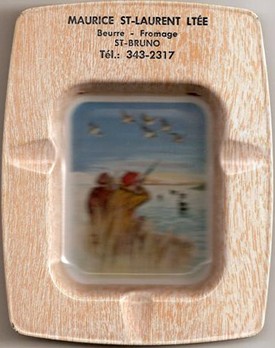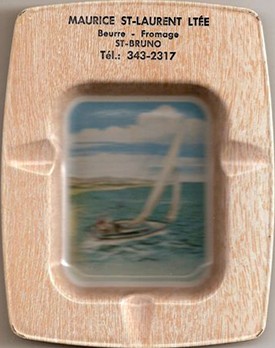 Dairy advertisement ashtrays - Olivier Denis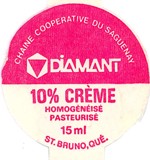 Creamer lid - Claude Pelletier