Mr. Rolland Goulet, 88 years old
(March 2003)

V. R. Goulet Milkman
(1915 - 1955)


42mm cap - J. G. Comtois

V = Valmard
R = Rolland
Historic
At the beginning of the years 1900, Mr. Adélard Goulet buys a large dairy farm whose address is today 435, Beauvoir Road, Bromptonville. With a family of 9 children, 6 girls and 3 boys, Adélard must work hard but everyone takes part in the work of the farm. Of its three sons, Israel, Valmard and Rolland, Israel did not really like the work on the farm and he decided to become a fireman.
Therefore, in 1915, the year of birth of Rolland, his son, Adélard starts to sell the milk of its farm. Adélard is a good salesman. As he sees the request for its milk very quickly increasing, he then decided to buy a horse-drawn wagon, very well identified to his name and from A. Aubry & Sons of Montreal,he bought small one gallon milk cans for the deliveries.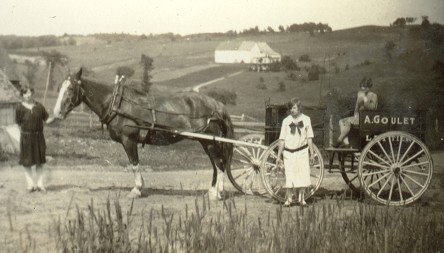 First horse-drawn wagon bought by Adélard Goulet (1915 - 20)
The cap of the can was used to mesure milk. First line was the pint,
and a full cap was the quart. I made the test and beleive me... that's it!


One gallon can, made by A. Aubry & Sons of Montréal (Click on the crest !)
Valmard worked several years on the farm with his father. He was a great help with Rolland, preparing milk and doing deliveries. Milk was sold 0,05 $ a pint in 1927, Rolland said. Valmard was doing that because he had to help but, he really did not like this kind of job. He thought that there was a better way to earn his life and in 1942, he became taxi driver.
In 1942, Adélard fell sick and Rolland had to take charge of the whole business. In 1950, Adélard died and the tasks became more heavy for Rolland. The competition was always present, pasteurization became obligatory, the equipment was expensive; so Rolland decided to give up in 1955.
Searches : Jean-Guy Comtois