Allancroft Dairy & Stock Farm

Half pint "Dacro top"
Steve Lussier

The Allancroft Dairy & Stock Farm



All pictures - McCord Museum
Historic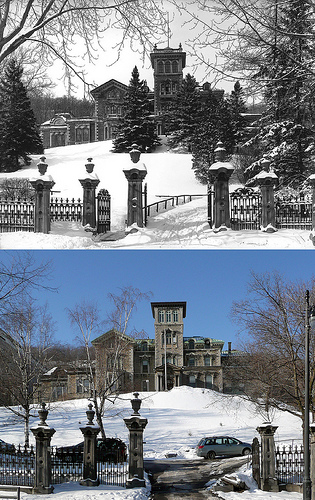 This mansion built in 1861 for Hugh Montagu Allan is used as a psychiatric hospital since 1943.
Top : "Ravenscrag" Hugh Montagu Allan's residence, Montreal, QC, 1901
It was renamed the Allan Memorial Institute in 1943. To serve the present needs as a psychiatric hospital and research institute, the interior of the building has been altered and many additions have been made to the exterior.
Bottom : "Allan Memorial Institute" January, 2009
In 1863, Sir Hugh Allan, the Scottish founder and president of the Allan Lines Shipping Company, commissioned Victor Roy and John Hopkins to construct a house that reflected his wealth and power. This Italianate, villa-style mansion was named Ravenscrag after a Scottish castle and was located at the top of McTavish Street with an imposing view over the entire city. The house, which is divided into many wings, had an asymmetric facade dominated by a large, solid tower which dominates the main entrance. The thirty-four room interior featured a different architectural style in each room. The entrance hall and dining room had Italian themes, the ballroom was French, and the oak-paneled library with ornate furniture was distinctly Victorian. Since the Allans were interested in horses, the fourteen acre estate possessed one of the finest stables on the Square Mile, the entrance of which was marked by a sculpted horse's head.
After Sir Hugh Allan died in 1882, his son and daughter-in-law, Sir Montagu and Marguerite, respectively, inherited Ravenscrag. They enlarged the house, redecorated in a more elegant and lavish style, employed several live-in servants, and filled the stable with prize thoroughbreds at the request of Sir Montagu, the president of the Jockey Club. After Sir Montagu's death, Lady Allan gave Ravenscrag to the Royal Victoria Hospital in 1940.
Source : Ravenscrag History
=-=
Origin of the name : Sir Hugh Allan fÎt ériger une résidence victorienne en pierre calcaire grise de Montréal entre 1861 et 1863, inspirée de la Renaissance italienne et apparente à la villa toscane. Allan lui donna le nom de Ravenscrag (littéralement : rocher escarpé au dessus d'un ravin) en souvenir du château du même nom construit sur une falaise, dans le Ayrshire, en Écosse. Propriété de Lord Lorne, ce château l'avait vivement impressionné, et en découvrant la similitude de l'emplacement choisi à Montréal avec celui du Ayrshire, Allan décida de donner le même nom à sa future résidence.
Source : Montréal son histoire son architecture de Guy Pinard, Tome 2, 1988, page 175.
Recherches : Gilles Legault
=-=
The name "Allancroft" is attributed to being one of his summer residences in Beaconsfield Quebec. The other being "Montrose" in Cacouna Quebec.
The Dairy Farmes belonging to agricultural colleges, businessmen or gentlemen farmers were often held up as models for ordinary farmers and they epitomized the reformers agricultural idea.
In 1914 most of the farms supplying milk for the Montreal market had very little in common with this model farm.
During this un-controlled time of milk production farmers like Sir Allan were lobbying for more sanitary control and gouvernement inspection wich didn't come about till approximately 1926. Sir Allan's city residence was Ravenscrag 505 Pine Ave. Since 1940, it's called the Allan Memorial Hospital. In 1928-29, 505 Pine Ave was renumbered for 1025 Pine Ave.
Sir Allan was the President and Director of a multitude of companies and organizations. He was knighted June 1904 by King Edward. - Born in Montreal October 13, 1860 - 1951
Source : Dale Peacock collector
=-=
Should we say that "Ravenscrag" was Allan's main residence in Montreal. "Montrose" was another of his summer residence in Cacouna QC and "Allancroft" was another of his summer residence where was located the Dairy Farm in Beaconsfield area ?
Searches to find the exact location of the Dairy farm are in progress...